Rock, Paper, Scissors: After (School) Hours
Description
Made for Ludum Dare 44. Not the traditional kind of rock, paper, scissors. Reaction-based, fast-paced, and with a small twist. You'll be facing your fiercest classmates in a battle to the death. Over time, your classmates will become inpatient and speed up their turn. The only way to calm them (temporarily) is giving up one life. How far can you make it before you need to sacrifice a life (as a currency)?
Controls
- Z - Rock
- X - Paper
- C - Scissors
- Space - Give Up a Life
Your Goal
- Counter the opponent's attack before their timer runs out. Their timer will gradually increase in speed every turn.
- When you can't counter their attacks fast enough, press space to sedate them temporarily, losing a life in the process.
- Try and defeat as many classmates as possible before the time is up (and you have to go home). Every 5 opponents you defeat, you gain 15 seconds to the timer.
Screenshots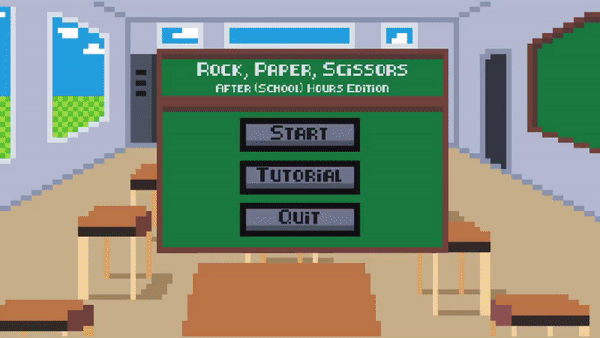 Ludum Dare Page: https://ldjam.com/events/ludum-dare/44/rock-paper-scissors-after-school-hours-ed...

Source Code: https://github.com/SplicedDev/LD44Submission